Love Your Trails? Build-A-Metre-of-Trail Today. . .
Support trail projects. $10, $20, $50, $100. . .every little bit helps. Help build more trails by making a donation and becoming a Trail Blazer.
Donations translate into metres!
The Shuswap Trail Alliance brings together businesses, government agencies and just plain people to build trails in the Shuswap. We've put more than 135 km of new trail down in the past 15 years. We've signed, mapped and upgraded numerous other trails. The STA needs partners and investors to keep the momentum going.
Join us in building Shuswap Trails today!
Individuals support the effort through direct Donations of time or money! The STA is a Charitable organization and can issue tax receipts for donations over $20.
Businesses and organizations can also support the Shuswap Trail Alliance through our cool Sponsorship Program which includes in-kind contributions. We recognize cumulative contributions by our supporters. Some of our long-time contributors have become Platinum Sponsors over the years! For more info call 250-832-0102 or email info@shuswaptrails.com.
You can also contribute to the cause through the Shuswap Community Foundation. Learn more about estate planning, planned giving and other ways to leave a lasting gift to your community through the Shuswap Trail Legacy Fund.
All contributions over $20.00 will receive a tax receipt. You don't need an account, simply fill out the donation form below.
Help Build the Rail-Trail:
Make a donation to the Shuswap North Okanagan Rail Trail Capital Campaign and help build this greenway legacy for generations to come. Rail-Trail contributions are also eligible for a charitable tax receipt.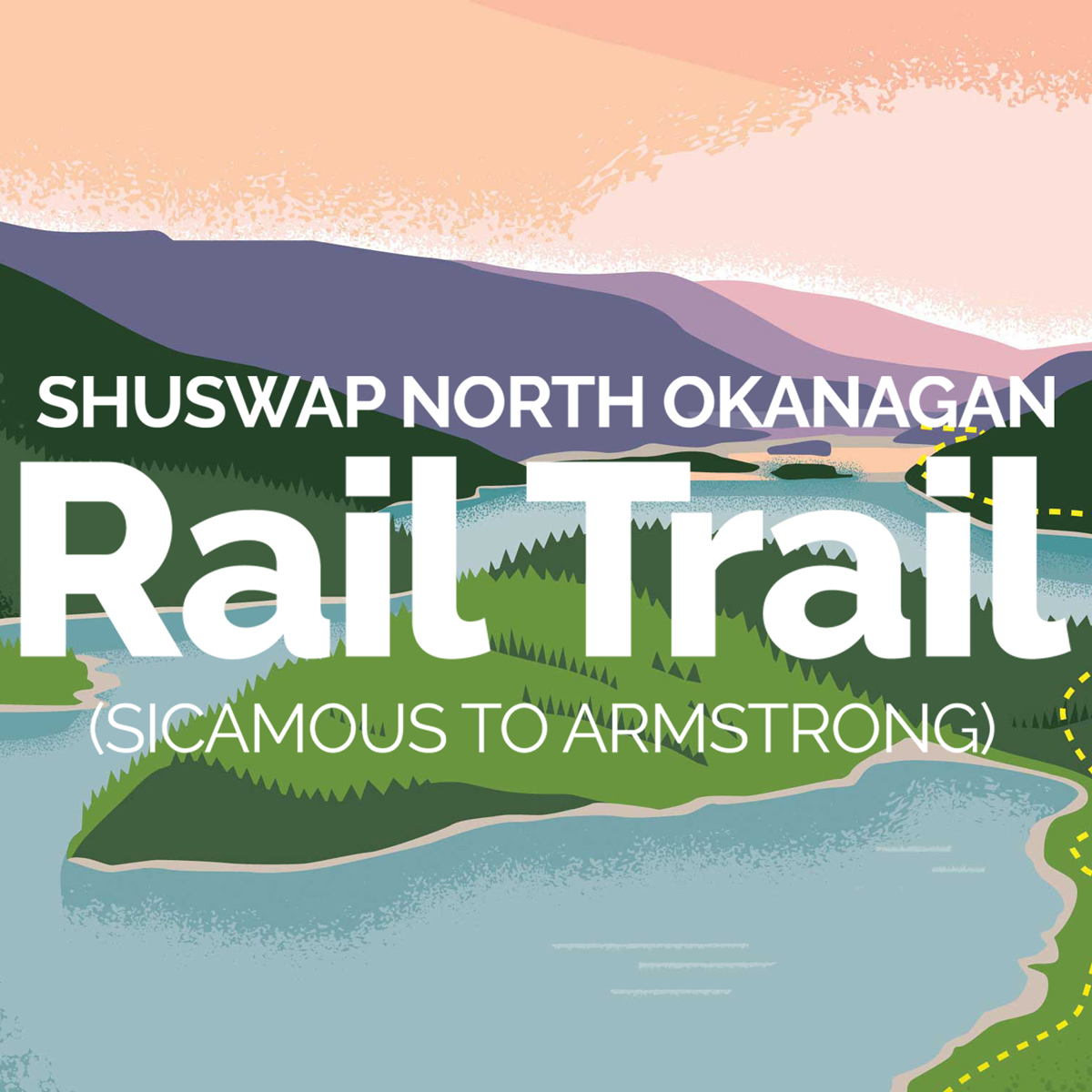 More information at
ShuswapNorthOkanaganRailTrail.ca.
Our thanks to everyone who made the 2021 Annual Shuswap Trails Fundraiser such a success - over $50,000 raised for Shuswap Trails!
Check out our remarkable 2021 sponsor list here, and return the love by clicking on their links and visiting their businesses. Remarkable!
HOW DO I GET MY DONATION TO STA
Mail a cheque to:
Shuswap Trail Alliance
#2 - 481 7th Street SW
Salmon Arm, BC V1E 4S9

Use the donation form above
Contact Us if you have any questions about how we manage donations and sponsorship funds. The STA is accountable for how we spend all contributions, and are proud of our ability to leverage dollars toward building and maintaining trails in the Shuswap.
Make a commitment to long-term trail sustainability.
Donate to the Shuswap Trail Legacy Fund