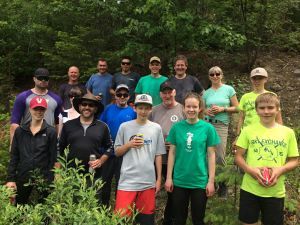 ---
News Release: June 14, 2017
Trail Volunteers Rock the Shuswap
The Shuswap, British Columbia - Oh my goodness THANK YOU! To all the volunteers who have been working out on Shuswap Trails: You Rock! So many of you have taken to the trails over the last weeks following the flooding and wind storms, and lifted and flicked and cut your way through the jungle of blowdown to get the trails open again - from Enderby Cliffs to Reinecker Creek to Rubberhead to South Canoe to Mt Baldy and Scotch Creek.
Huge huge HUGE thanks to the Shuswap Bike Club, all the volunteers, Rapattack, and STA Trail Crew - over 100s of blowdown trees were removed to reopen trails AND complete the new DD Climb Trail at Rubberhead east of Salmon Arm. One boardwalk away from full finish, the DD climb trail is open and rideable. (And check out the next voly day this weekend - details below.)
The "Pileateers" hosted another community cleanup day and got the Pileated Woods Trails spiffed up in Salmon Arm. Huge thanks to the Borkents for coordinating and openning their home for a little community social afterwards.
The Shuswap Outdoor Learning Foundation is hard at it under direction of the amazing Jeremy Ayotte and a parade of volunteer professionals working with the STA and CSRD Parks installing a new rain shelter at North Fork Wild that will accommodate a full class group for outdoor educational programs.
The EQ Trail Association was hard at it at Skimikin Lake, as always, with early season support from Rapattack.
And equally huge kudos to the City of Salmon Arm and CSRD Parks for jumping in with funding to support the annual clean-up of trails in the region. And BC Parks and Rec Sites and Trails BC for their ongoing work to support our region's remarkable trail system.
Be sure to keep up that stick flicking, and please report big issues to trailreport@shuswaptrails.com.