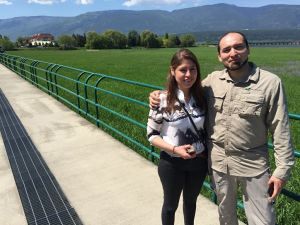 ---
News Release: May 14, 2017
Patagonia trail leadership exchange links Shuswap with Chile
The Shuswap, British Columbia - Patagonia trail leadership exchange - exciting news! We are delighted to announce the arrival of Christian Andrade and Nataly Gonzalez Bascuñan from Torres del Paine, Patagonia, who join us for a three month volunteer exchange right here in the Shuswap.
The Shuswap Trail Alliance and the AMA Torres del Paine, a non-profit conservation organization that works with the Torres del Paine National Park in Patagonia, Chile have been sharing a conversation on sustainable trail design, restoration, and management since 2015.
This past winter, Sutra Brett and his partner Stephanie DeWinter and their son, Finnley, spent two months this winter volunteering with our partners in Torres del Paine, Patagonia, training and consulting with local leadership on sustainable trail design solutions. It was Sutra's second visit to the region.
Now, in exchange, the Shuswap Trail Alliance is very excited to welcome Christian and his partner, Nataly, who arrive from Chile this coming weekend. Christian, who works with the AMA Torres del Paine, will volunteer with the Shuswap Trail Alliance for the next two months learning the art of sustainable trail building. Following the two month volunteer training, Christian and Nataly will spend a final month exploring Canada and continuing to learn english before returning to Patagonia to apply their new knowledge on sustainable trail design at home.
Find out more about the AMA Torres del Paine at www.amatorresdelpaine.org.