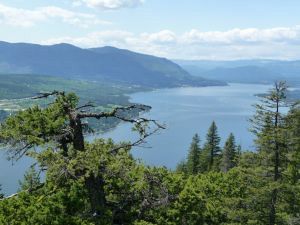 ---
News Release
December 15, 2015
Shuswap Trail party tickets launch a new decade of trails
The Shuswap, British Columbia – The coveted Shuswap Trail Alliance party tickets have arrived just in time for Christmas stockings! And this year, the much prized tickets go directly toward launching a whole new decade of trails throughout the Shuswap. The February 5th event raises the critical base funding needed to keep the wider Shuswap Trails initiative mobilized and it also seems to raise the roof.
But trail party supporters have come to learn that tickets sell out every year, so the pre-Christmas scramble is highly anticipated. "It's hard to believe these tickets have become such hot items," said Winston Pain, chair of the Shuswap Trail Alliance board. "It seems celebrating and creating a regional legacy of recreational trails and greenways just pair very well – especially in early February when we're all a little cabin crazy. We're humbled every year by the support."
2016 Shuswap Trail priorities include launch of the historic new Shuswap Trail Strategy and Roundtable which takes a major step forward to acknowledge our place within Secwepemc Nation Territory, more additions and upgrades to regional trails, expanded active transportation planning, and of course, the pending opportunity to see the abandoned Sicamous to Armstrong rail line transformed into a world class greenway for walking and cycling. "So buy those tickets to the annual celebration and help to make the next decade of Shuswap Trails possible," says Winston.
Tickets went on sale this week for the February 5th fundraiser and celebration of Shuswap Trails, and are available directly at Skookum Cycle & Ski in Salmon Arm. "Skookum has championed the regional trail initiative as a core partner from the very beginning," said Winston Pain, "and we are truly grateful to the whole staff team there for helping out. Be sure and show them some love when you stop by!"
The invitation for Silent Auction donations has also gone out with Waterways Houseboats once again leading the way with their Genesis 66 Houseboat. The Genesis 66 is one of Waterways feature vessels. It's a spectacular way to explore trails throughout the region, sleeping a whopping 24 people, and has become a popular way of combining accommodation and trial shuttling for mountain bikers, paddlers, and road cyclists.
Twin Anchors Houseboats has also jumped into the Platinum tier with their Cruise Craft II, which sleeps 15. "The houseboat companies have been some of our strongest supporters," says Pain. "They understand the important role trails play in engaging visitors more intimately with the natural landscape of the Shuswap, and in turn, how that supports a more sustainable economy for our region."
All businesses throughout the Shuswap are invited to support the Shuswap Trail Alliance's programs by contacting Winston Pain (250-804-6451) or by dropping items off directly at Lakeside Insurance in Salmon Arm (another long-standing sponsoring partner of the Shuswap Trail Alliance.)
Also joining Skookum, Waterways, Twin Anchors, and Lakeside Insurance at the front of the sponsor line is Lakeside Printing donating printing costs, and EZ Rock's Patrick Ryley. "We are very pleased to have EZRock's Patrick Ryley back on deck to get the crowd dancing and celebrating all of the accomplishments that everyone has achieved in the region in 2015," announced Pain. "And we're also excited to announce that this year's live band will see a reuniting of the much beloved, Whiskey Danglers." Blue Canoe Bakery Café joins the celebrations with locally sourced appetizers to fuel the festivities.
Shuswap Trail Party and Auction tickets are available for sale at Skookum Cycle & Ski in Salmon Arm. The annual celebration lights up deep winter on Friday, February 5th, at the Salmon Arm Rec Centre. Silent Auction donations can be dropped off at Lakeside Insurance in Salmon Arm or by calling Winston at 250-804-6451. For more information on Shuswap Trails and the Shuswap Trail Alliance visit www.shuswaptrails.com.
***
For further background on this release, please contact:

Phil McIntyre-Paul (Executive Director)
for the Shuswap Trail Alliance
250-804-1964
phil@shuswaptrails.com
www.shuswaptrails.com
Winston Pain (Chairperson)
For the Shuswap Trail Alliance
250-804-6451
wpwinston2@gmail.com