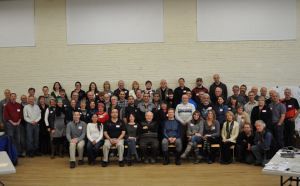 ---
News Release
December 07, 2015
Shuswap Trails Roundtable builds new relationships
The Shuswap, British Columbia – "Every trail tells a story – the question is: what story do we want to tell together now?" It's the question that has driven regional trail development throughout the Shuswap over the past 10 years. And now, in a new milestone along that journey, regional leadership gathered last Wednesday (Dec. 2nd, 2015) to formalize their commitment to keep working together on shaping the story. At the heart of the commitment is a newly developed Regional Trails Strategy for the Shuswap. "This is a very significant step on the path we've been privileged to shape together over the past 10 years," acknowledges Phil McIntyre-Paul, with the Shuswap Trail Alliance.
According to the new Shuswap Regional Trails Strategy, the purpose is to protect, enhance and recognize trails as an integral part of the Shuswap lifestyle, culture and economy. It is intended to help ensure trails are appropriately authorized, mapped, developed, maintained, and promoted. It will also protect and promote First Nations interests, reduce/repair ecological damage from all trail use, and manage land access appropriately. Notably, the strategy includes both non-motorized and motorized trail user groups.
The strategy's process also serves to demonstrate collaborative management between all orders of government, industry sectors and stewardship groups. "We recognized early on a working strategy like this was necessary to provide stability and security to all trail user groups, businesses, and the orders of government who invest in them," says McIntyre-Paul, "and that we needed to bring both non-motorized and motorized recreational groups together."
The trails strategy covers the entire Shuswap watershed, involving many jurisdictions including Secwepemc, provincial, and the Columbia Shuswap, Thompson-Nicola, and North Okanagan regional districts and some of their member municipalities. The Roundtable also includes representation from trail and recreation stewardship groups (both motorized and non-motorized), economic development and tourism, health, education, arts and culture, industry, and the environment.
The first formal gathering of the new Shuswap Trails Roundtable took place in Enderby, with a welcome to Secwepemc Nation Territory by Splatsin Councillor, Randy William. A Letter of Understanding was signed formalizing the Roundtable and the Trails Strategy, along with a review of working priorities for 2016 and a presentation by Secwepemc leadership on cumulative affects modelling for trail planning. The Shuswap Trail Alliance will continue to coordinate the Roundtable, with funding support from regional partners including Recreation Sites and Trails BC, Shuswap Tourism, and CSRD Parks. The Fraser Basin Council has been contracted to facilitate the Roundtable meeting.
Secwepemc leadership from Adams Lake, Little Shuswap, Neskonlith, and Splatsin all spoke to the historic nature of the Letter of Understanding that acknowledges Aboriginal Title and Rights along with a commitment to work together. The Mayors, Directors, and Councillors from Chase, the Columbia Shuswap Regional District, Enderby, the Regional District of North Okanagan, Salmon Arm, and Sicamous echoed their acknowledgement and support prior to signing the commitment to work together. As Salmon Arm Mayor Nancy Cooper stated, "we're not Chase, or Sicamous, or Salmon Arm – we're the entire Shuswap working together!" And CSRD Board of Director's Chair, Rhona Martin said, "This is historic!"
To find out more about the Shuswap Regional Trails Strategy and trails in your community visit the Shuswap Trail Alliance website at www.shuswaptrailalliance.com.
***
Photo: Over 75 leaders from Secwepemc, Regional, Municipal, Provincial, trail and environmental stewardship, industry, business, economic development, tourism, education, and health organizations gathered in Enderby last Wednesday for an historic gathering to officially launch the Shuswap Trails Roundtable and begin implementation of the Shuswap Regional Trails Strategy. For more info visit www.shuswaptrailalliance.com.

For further background on this release, please contact:
Phil McIntyre-Paul (Executive Director)
for the Shuswap Trail Alliance (250-804-1964)
phil@shuswaptrails.com
www.shuswaptrails.com