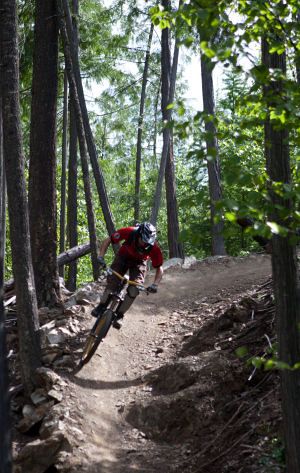 ---
PRESS RELEASE
July 17, 2015
TransRockies Singletrack 6 Event – Stage 1, Salmon Arm!
On Sunday July 26, 2015, Salmon Arm will welcome hundreds of mountain biking enthusiasts from around the world! TransRockies Inc. has selected Salmon Arm to be the kick-off community for their Singletrack 6 race, an event which tours 6 communities over 6 days and provides riders with 40km of epic riding each day.
Community partners including Salmon Arm Economic Development Society, Shuswap Trail Alliance, Shuswap Cycling, Shuswap Tourism, Skookum Cycle, Downtown Salmon Arm and Salmon Arm Chamber of Commerce submitted a bid last fall for Salmon Arm to host this world class event and are very pleased to have been selected as the Stage 1 location!
"We are very excited to be welcoming so many riders and their family and friends from around the world. What a great opportunity to showcase our Shuswap trail network and everything our region has to offer!" Phil McIntyre-Paul, Shuswap Trail Alliance
Singletrack 6 stage 1 in Salmon Arm includes the Rubberhead, Larch Hills, and South Canoe trail networks and finishes in South Canoe at Klahani Park. During the race, route trails will be closed to the public, but don't worry…the Shuswap has over 400 km of other amazing trails for you to enjoy! Visit www.shuswaptrails.com for trail ideas.
Shuswap community members are invited to join in the festivities at Klahani Park from 9:30am – 1:30pm. Watch racers cross the finish line while enjoying BBQ and live music from performers from "In The Groove Studio". Come and check out Shuswap Cycling's Pumptrack, and other fun family activities!
Want to know more about TransRockies Singletrack 6 Event? Visit: singletrack6.com
Press Release Contact:
Salmon Arm Economic Development Society
250-833-0608