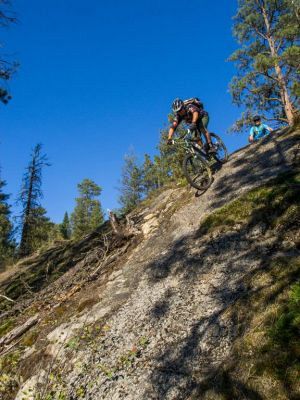 ---
Dear friends,
A nice good news trail story here in the Shuswap to share with you as school ends for summer . Salmon Arm Senior Secondary School teacher and coach of the High School Mountain Bike Team, Chris Stromgren, received a very nice end of term surprise this week. He is the 2016 winner of the Mountain Biking BC 7-day Mountain Bike Give-Away trip. What a way to start his summer break!
Check out the official news release below and one of the photos of Chris riding that helped him land the coveted winning spot.
The Shuswap is a proud member partner of the Mountain Bike Tourism Association and Mountain Biking BC through the efforts of Shuswap Tourism in collaboration with the Shuswap Trail Alliance. Mountain Biking BC promotes the provinces mountain bike trail destinations to the rest of Canada and the world. We have sat on the Provincial MBTA board, hosted previous 7-Day trip winners here in the Shuswap, and also helped to host the Provincial Mountain Bike Symposium. So we know Chris will be in good hands on his 7-day tour. Check the website out at
mountainbikingbc.ca
Chris has been a long supporter of mountain biking, trails, and getting young people active and outside here in the Shuswap. A teacher at Salmon Arm Senior Secondary School, he has been coaching the high school mountain bike team for a number of years. This year they pulled top honors as the winning team at the Provincial High School Mountain Bike Race in Powell River. Chris gets his students out helping us with trail maintenance and building, and several have gone on to work with the Shuswap Trail Alliance summer trail crews in the past.
So we're super excited for him. Well deserved, Chris!
Contact info for the MBTA is in the release. But feel free to give either Robyn Cyr
(250-517-7412
) at Shuswap Tourism, or myself here at the Shuswap Trail Alliance, a call.
Happy trails!
Phil McIntyre-Paul
for the Shuswap Trail Alliance
250-804-1964
--------OFFICIAL MBTA NEWS RELEASE---------
FOR IMMEDIATE RELEASE...
WE HAVE A WINNER FOR THE 2O15 MOUNTAIN BIKING BC 7 DAY GIVEAWAY
VANCOUVER, BC June 25, 2015 – Imagine pointing your tires into the unknown, fearlessly releasing the brakes and shredding the brown pow of a well-crafted trail in the deep wilderness of Northern BC. For Chris Stromgren, from Salmon Arm, BC, that is soon going to be a reality. Chris is the lucky winner of this year's Mountain Biking BC 7 Day Giveaway Contest.
Chris was selected among 10 random finalists who had to convince a panel of judges in 500 word or less why they should be the chosen one for this incredible experience. Chris has been a committed rider and racer for many years and has given back to the sport by establishing a very successful high school youth mountain bike program in Salmon Arm and currently serves as Commissioner for Mountain Biking with BC School Sports. His passion for adventure and mountain bike road trips in particular make him the ideal candidate for this week long odyssey into the wilds of the North.
This year's trip will feature riding near Prince George, Fort St James, Terrace, Smithers, and Burns Lake. Leading the trip will be Darren Butler and Kelli Sherbinin from Endless Biking. The trip is made possible through support from the following organizations: 
- Northern BC Tourism
- Camping & RV BC Coalition
- Tourism Prince George
- Fort St James District
- Visit Terrace
- Tourism Smithers
- Village of Burns Lake
- Endless Biking
The trip will run from July 18-26. Daily highlights will be posted on Facebook at http://www.facebook.com/MountainBikingBC and through other media outlets. Coming along to capture new stories and images from the region are Brandon Watts and Chris Grundberg from Freehub Magazine, Matt Cote from Coast Mountain Culture and John Wellburn, freelance adventure photographer.
Mountain Biking BC would like to express its thanks to more than 3,000 people from over 20 countries who entered the contest. When planning your next mountain bike adventure in BC, be sure to check out www.MountainBikingBC.ca.
*Photo: Chris Stromberg – showing us he's not afraid of the steeps!
Contact: Martin Littlejohn at martin@mbta.ca
About Mountain Biking BC The province of British Columbia is Canada's most mountainous province and home to some of the world's most spectacular and diverse biking terrain. Riders can experience all disciplines of mountain biking in each corner of the province and everywhere in between.