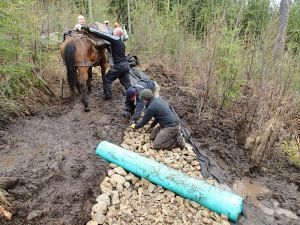 ---
News Release
April 29, 2014
Volunteer blitzes personify Trail Alliance in action
The Shuswap, British Columbia – A hush falls over the busy volunteers as pack horses, Spirit and Sam, arrive bearing another 300 pound load of rock. Something about the quiet presence of the horses seem to add to the overall sense of good will during this weekend's two day push to improve the trails at South Canoe just east of Salmon Arm. "Each horse carried about 175 pounds a trip," said Linda Buchanan, President of the Backcountry Horsemen of BC Shuswap Chapter, who estimated the two horses carried a total of 4200 pounds over the day.
"That's the equivalent of about 16 people a trip," calculated Sutra Brett (Ways2Ride/Skookum Cycle and Ski) and Damon Kent (Shuswap Trail Alliance), who coordinated the technical work with fellow trail developers, Jim Maybee (Trailheads Cycle and Ski) and Veda Roberge (Shuswap Trail Alliance). What started as a "wouldn't it be cool if" conversation between the group during a planning session had quickly evolved into a living solution when put to local equestrian trail users.
The two horses joined over 140 people who came out over five volunteer days this month to work on major improvements to the South Canoe trail system. New reroutes, bridges, culverts, and signage are helping to open damaged trails, protect streams, and improve shared use by horses, hikers, and cyclists on what is arguably the Shuswap's most visited recreational trail system. Volunteers represented all ages and trail uses, including mountain biking, equestrian, trail running, and hiking.
South Canoe Trail Stewardship liaison, Dan Capek, thanked a group of 90 volunteers at this Sunday's event, which included a barbeque lunch sponsored by Skookum Cycle and Ski. He acknowledged the remarkable collaboration of so many people, including in-kind sponsorship from the community.
Special thanks was given to the EQ Trail Association for a $3000 grant for materials on the Prudential Trail Upgrades, Ken Gibson and Recreation Sites and Trails BC for a $5000 grant toward Upper Trail Signs, the City of Salmon Arm for ongoing support including trailhead signage, Ray Mills and Canoe Forest Products (Gorman Brothers) for a donation of salvaged 10x10 stringers for trail bridges, Veda Roberge/Hayley Feibelcorn/Kevin Pattison for figuring out how to muscle those 10x10 stringers into place (check out the new Undercut trail bridge at South Canoe – a beauty), Sutra Brett (Ways2Ride/Skookum Cycle)/ Adrian Jenson/and Steve St Denis with Freedom Framing for all the work bolting stringers together ready for bridges, this year's Rapattack Crew for spring saw work on bigger blow downs, and everyone on the technical planning team coordinating work behind the scenes (Jim Maybee with Trailheads Cycle, Sutra Brett with Ways2Ride/Skookum Cycle, Damon Kent, Veda Roberge, Kevin Pattison, Ray Mills, Tom Peasgood with Skookum Cycle, and South Canoe Trail Advisory liaison Dan Capek and chairperson Isabel Reinertson).
And of course – everyone who helped raise funds at this past February's Shuswap Trail Alliance fundraiser was acknowledged for raising the base funding to support the project. "The five days have been a moving expression of what working together as a Trail Alliance is all about," said Phil McIntyre-Paul, Executive Director of the Shuswap Trail Alliance.
Check out the Shuswap Trails event calendar for more volunteer days throughout the region at www.shuswaptrails.com, including May 16 (Pro-D), May 23 & 24 (Trail Building & Maintenance Workshop) and May 25 (South Canoe Continued). And be sure to share trail maintenance needs through the trail report hotline email at trailreport@shuswaptrails.com
***
Photo: Damon Kent, Donat Koller, Hugo Van Rooyien, Gordon Holmes, and Lena Schmidt unload rock for a section of trail repair and restoration with horses, Sam and Spirit during the recent South Canoe trail volunteer work days.

For further background on this release, please contact:

Phil McIntyre-Paul (Executive Director)
for the Shuswap Trail Alliance
250-804-1964
phil@shuswaptrails.com
www.shuswaptrails.com