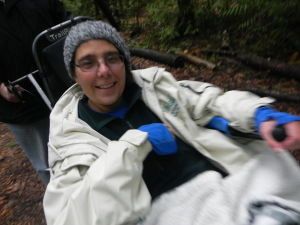 ---
News Release
December 03, 2013
The Shuswap TrailRider project takes another roll forward
The Shuswap, British Columbia – The Shuswap TrailRider program just took a huge step – or roll – forward thanks to a $7400 grant from the Salmon Arm Savings and Credit Union's community sponsorship program. The grant combined with a grant from the Shuswap Community Foundation announced earlier this fall, has allowed local TrailRider champion, Debra MacDonald, and the Shuswap Trail Alliance to purchase the second TrailRider. There are now two TrailRiders available for anyone in the Shuswap to book out and use on Shuswap Trails.
People with mobility challenges in the Shuswap can now use the region's growing recreational trail system thanks to the efforts of a very determined champion. Debra MacDonald first brought the TrailRider program to everyone's attention just over a year ago. She had the opportunity to try one and realized she could realize a dream she thought was out of reach: everyone could experience the beauty of local natural recreational trails – regardless of whether they could walk or not.
The TrailRider is a balanced seat on a single wheel that is remarkably easy to navigate with the aid of two friends – or Sherpa's, as the TrailRider community refers to them. The design was innovated and actively promoted through the Sam Sullivan Foundation, based out of Vancouver. And it has taken off. Communities throughout the province are setting up programs that allow individuals, families, and groups to book the TrailRider for an afternoon, a day, even multi-day trips.
Debra has been gathering inspiration and support from similar programs in Powell River, Vernon, and Victoria, and even as far away as Australia. "All of those community programs found three was the magic number to get people actively booking and using the TrailRiders," says Debra. "And we now have two for people to book here in the Shuswap." And just for a suggested donation of $10. "We really, really want people to use these!" encourages Debra, noting the program is only $3000 short of getting the third and final TrailRider. Donations are still being received to meet this final goal.
Before Debra's illness with Multiple Sclerosis, which put her in a wheelchair, she worked in the forest industry for 20 years. "This gave me opportunities working outdoors that most people with a disability will never experience," she says. The TrailRider changes that. "My goal is to get people with all disabilities to experience the great outdoors. Support from BC Parks, the Shuswap Community Foundation, Salmon Arm Savings and Credit Union, Stella-Jones, the Professional Foresters Association, Shuswap Lady Striders, and so many individuals have made that a real option for people in the Shuswap."
To book the TrailRider, call Debra at 250-832-1353. The TrailRider website can be found at www.shuswaptrailrider.com. Charitable donations can be made by mailing a cheque to the Shuswap Trail Alliance, PO Box 1531, Salmon Arm, BC V1E 4P6, and clearly mark that it is for the TrailRider Project; or call the Shuswap Trail Alliance at 250-832-0102.
***
For further background on this release, please contact:
Debra MacDonald (TrailRider Project Coordinator)
250-832-1353
Debram2@telus.net
www.shuswaptrailrider.com
Phil McIntyre-Paul (Executive Director)
for the Shuswap Trail Alliance
phil@shuswaptrails.com
www.shuswaptrails.com