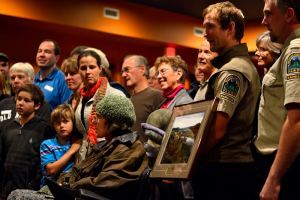 ---
The Shuswap, British Columbia – Cooperation and good work does get noticed. In a recent letter to the Shuswap Trail Alliance, Provincial Minister of Environment, the Honorable Mary Polak, has recognized individuals and partner organizations who have been working together to support BC Parks throughout the Shuswap region.
"It is with great pleasure," writes Minister Polak to the Shuswap Trail Alliance membership, "that you have been selected as BC Parks' Volunteer Group of the Year! The incredible amount of time and energy you have invested in parks in the Shuswap and North Okanagan over the past seven years shows your remarkable commitment to BC Parks."
Nomination for the award was submitted jointly by North Okanagan and Shuswap BC Parks Area Supervisors, Kevin Wilson and Wes DeArmond. Together they cite an impressive list of projects throughout the region that local volunteers have worked together on through the Alliance. Both Wilson and DeArmond are quick to acknowledge that all of this project work would not have been possible otherwise.
Successful projects include the upgrade of the Enderby Cliffs Provincial Park trail with the Splatsin community; the Eagle River boardwalk, bridge, and interpretive sign upgrades championed by local trails advocate, Lori Schneider Wood; the winter trail maintenance project at Roderick Haig-Brown provincial park with Services Canada's Job Creation Program; the Routes and Blues and Bigfoot Snowshoe interpretive trail programs in partnership with the Roots and Blues, Adams River Salmon Society, Salmon Arm Bay Nature Society, Shuswap Tourism, CSRD Parks, and the Shuswap Community Foundation; installation of trail gates, stiles, and signage to protect the Upper Violet Creek Provincial Park with the Larch Hills Nordic Society, Shuswap Outdoors, Natures Nomads ATV Club, EQ Trail Association, and Recreation Sites and Trails BC; support for recent hydrology studies in the Mara Meadows ecological reserve with volunteer warden, Jeremy Ayotte; plotting, mapping, and development of new snowshoe trails with the Larch Hills Nordic Society, Thompson Rivers University, Services Canada's Job Creation Program, Skookum Cycle and Ski, and Atlas Snowshoes; the White Lake Turtle research project launched by local area trail stewards, Trish Wallensteen and Carmen Massey; support from the Shuswap Trail Report hotline coordinated by Clint Smith; and most recently, the announcement of BC Parks support for the Shuswap TrailRider project to improve assisted trail access.
"It takes a moment like this to step back and realize just how much good work is being done by so many people," says Shuswap Trail Alliance coordinator, Phil McIntyre-Paul. "I look to examples like Damon Kent, George Zorn and Keith Cox who all called up recently with work they saw needing done on the upper Enderby Cliffs trail. With the Alliance in place, they can get the support, tools, connections, permissions – even insurance – they need to make that happen. Keith has even grown seedlings to assist with trail restoration planting." Phil points to many more similar examples.
"We can always welcome more volunteers," McIntyre-Paul encourages, pointing to fall projects that include further installation of trail stiles along Upper Violet Creek, new work on the Eagle River Nature Trail boardwalk, more spot repairs to the Enderby Cliffs trail, improvement to the Herald Park/Reinecker Trail connection, and hopefully, a third season of the winter Bigfoot Snowshoe interpretive walks. "Keep your fingers crossed for another great snowy winter trail season ahead," smiles Phil.
Interested volunteers should sign on to the Shuswap Trail Alliance ebulletin network by sending a note to trailreport@shuswaptrails.com or join one of the partner organizations. The same email can be used to report trail work that needs attention. BC Parks plans a formal celebration of the award later this fall.
***
For further background on this release, please contact:

Phil McIntyre-Paul (Executive Director)
for the Shuswap Trail Alliance
250-804-1964