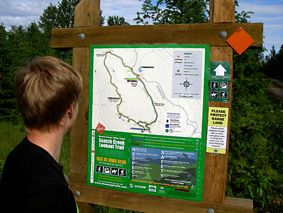 ---
Find your trail - online! The fully updated ShuswapTrails.com goes live this week thanks to a huge team effort of partners. The region's go-to location for all hiking, mountain biking, cycling, snowshoeing, skiing, and equestrian greenway trails just got even better.
The ShuswapTrails.com website now boasts integrated Google maps, trail bulletin postings, downloadable Google Earth and GPS files, printable information pages, and a reporting link for trail users to provide real-time updates on conditions and send in photographs. As well, all the written trail postings match the Shuswap Trail Guide developed in partnership with Shuswap Tourism. "This is becoming the central data bank of trails throughout the Shuswap," says Carmen Massey with the Shuswap Trail Alliance, acknowledging it's a work in progress that now needs community input.
The original ShuswapTrails.com website was created by local trail champion, Jim Maybee (Trailheads Cycle and Ski), who designed and managed the original Shuswap Trails website in partnership with Skookum Cycle and Ski and other area trail users. Thanks to early funding through the Shuswap Trail Alliance, Jim was able to update the website, but the dynamic nature of trail conditions made it hard to post new information on a weekly basis. New web programming tools have changed that.
The new ShuswapTrails.com site was made possible with a Shuswap Community Foundation grant through the Browne Johnson Legacy Fund, Services Canada's Summer Jobs and the Job Creation Partnership programs, Erica Lahoda and the team at Lynx Technology Solutions, Raptor Integration Inc., and Steve McKenna at Canadian Photoscene, who developed the new Shuswap Trail Alliance branding designs. Thanks to their contributions a new data management system has been implemented.
Trail Alliance partner, Susanna Nicholson, worked through the winter of 2011 under the Services Canada Job Creation Partnership to fully revise and update the Shuswap Trail Guide information ready for publication. And then Sam Frese, a second year engineering student at UBC, was hired via a Federal Canada Summer Jobs program grant. He uploaded all the new trail guide content and trail maps this summer. "It's awesome to hear the website is going live," says Frese reflecting on the hours of detail it takes to assemble maps and accurate information. "I look forward to being able to use it for myself next summer!!"
"Now we need everyone to try it out," says Carmen. "Go find a trail, explore it, and give us feedback – and be sure to thank all the partners who continue to make this happen!" Carmen invites anyone with information updates to send them to trailreport@shuswaptrails.com. The same email address can be used to report maintenance issues out on any greenway trail throughout the region.