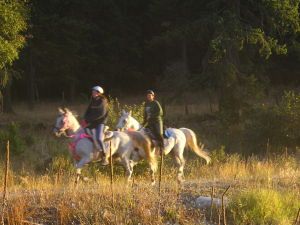 ---
The Shuswap, British Columbia – Local mountain bike leaders are getting creative again inviting the community to an All Ages Mountain Bike Toonie Ride at Little Mountain Park in Salmon Arm on June 18th, but with an added feature that may be a first. Horses will be involved. . .as well as tennis players.
Toonie rides are popular mountain bike events in many parts of the province. Participants gather to ride selected trails by throwing a toonie into the pot. The toonies provide the funds for prizes, which are usually distributed in a variety of creative community building ways.
The upcoming mountain bike toonie ride in Salmon Arm, however, adds a whole new dimension to the community building part as leaders from the equestrian community join the event to provide information on good horse/bicycle trail relationships.
Local equestrian rider and trails advocate, Mary Howard, has worked with mountain biker, Chad Eliason, to prepare a new pamphlet for the event entitled, "What Every Horse Wants Bikers to Know." It's full of clear and insightful tips for folks who ride mountain bikes on our local trails.
A horse will join cyclists at the upcoming toonie ride to pass on the information directly from the horse's mouth – as they say. Did you know that horses consider anything moving fast to be a predator? The quiet speed of a mountain bike can trigger that fear. Stopping at a distance and speaking to the equestrian rider helps the horse to know there's nothing to fear and helps them relax.
So where do the tennis players come in? Following the ride, cyclists will regather at the Tennis Club. Shuswap Trail Alliance chair, Winston Pain, who also coaches for the Salmon Arm Tennis Club said, "Chad and I were discussing logistics and we realized – the mountain bikers are having an event, and the tennis club is having an event the same day – let's share a BBQ following both events." The BBQ will also reveal the recipient of the first ever Bent-Rim Trophy – awarded for a pre-chosen super secret finish time.
The Shuswap gets its think-like-a-horse-swing-like-a-tennis-player mountain bike toonie ride going this coming Fathers Day weekend, Saturday, June 18th, 3 – 4:30 pm, with BBQ and prizes to follow. All ages welcome. The toonie ride starts at the Salmon Arm Tennis Club next to Little Mountain Park at the top of Okanagan Avenue off 30th Street. Everyone is encouraged to ride to the event, but parking will be available at the Field of Dreams for those coming in from out of town.
The Shuswap Trail Alliance will be working with equestrian and mountain bike leadership to print and share the "What Every Horse Wants Bikers to Know" pamphlets. Watch for an online version.
----
For further background on this release, please contact:
Chad Eliason (Chair, Shuswap Trail Alliance Mountain Bikers)
250-804-9874
chadeliason@gmail.com
Phil McIntyre-Paul (Project Coordinator)
for the Shuswap Trail Alliance
250-804-1964
phil@shuswaptrails.com