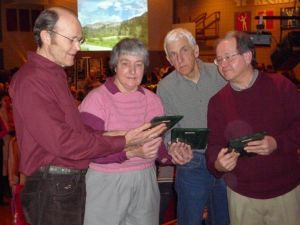 ---
News Release: November 27, 2017
Local trail legend, Connie Harris Crowley, awarded Senate 150th Commemorative Medal for her work as a Canadian trail builder
The Shuswap, British Columbia - Please join us in congratulating Shuswap Trails legend, Connie Harris Crowley, who has been recognized for her work as a Canadian trail builder by Senator Nancy Greene Raine with a Senate 150th Commemorative Medal.
Please mark your calendars and plan to join Mayor Cooper who will be presenting Connie with her medal at City Hall at the beginning of the December 11 Council meeting, commencing at 2:30 pm.
The Medal has been awarded to outstanding community volunteers fromthe interior of British Columbia for their work in building and promoting community trails as a legacy for the future. When asked, local trail volunteers had no hesitation in acknowledging Connie as a fitting representative of the thousands of hours invested by members of Shuswap Outdoors! developing recreational opportunities for hiking, snowshoeing, skiing, biking, and paddling throughout the Shuswap.
Since the early 1970's, Connie was a core part of this dedicated group of individuals committed to engaging people in a quieter, more thoughtful appreciation of the outdoors. Their work led to the evolution of the Larch Hills backcountry trial system, the Larch Hills Nordic Society, most of the Shuswap's iconic alpine hiking trails, the creation of the Mara Meadows Ecological Reserve, and helped to guide the creation of the Shuswap Trail Alliance. All of us owe a deep dept of gratitude to the steady presence and leadership of Connie and Shuswap Outdoors!
Senator Nancy Greene Raine aptly acknowledged the work of Connie and the other Senate 150th Commemorative Medal recipients, saying, "I truly appreciate the thousands and thousands of trail building volunteers all across our country who have made it possible for all Canadians to have an opportunity to get out into nature and enjoy healthful physical recreation."
Please join us December 11th, 2:30 pm, at City Hall to celebrate this most excellent recognition!
PHOTO: Connie Harris Crowley (2nd from left) receiving the Shuswap Trails award for her outstanding contribution to trails within the region in 2010. (Also shown are fellow trail stewards, Jim Beckner, Jim Hoskins, and Ed Hinman) Connie has been awarded a Senate 150th Commemorative Medal in recognition for her work in building and promoting community trails as a legacy for the future.