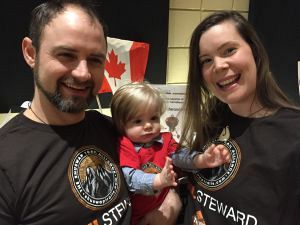 ---
News Release
February 21, 2017
Shuswap Trail Alliance grows partnership with Torres del Paine, Patagonia, Chile
The Shuswap, British Columbia – "This trail is ten times harder than anything we've done yet," says technical trails specialist, Jacob 'Sutra' Brett, with the Shuswap Trail Alliance. "Think Enderby cliffs on steroids. . .and every plant has 1" razors." The trails specialist is speaking from Torres del Paine, Patagonia, Chile. It's about as far south on the planet you can get from his home working with trail partners in the Shuswap.
Sutra, his partner, Stephanie Dewinter, and their young son, Finnley, will spend the next two months volunteering with partners in Torres del Paine, Patagonia, training and consulting with local leadership on sustainable trail design solutions. This is Sutra's second visit to the region.
The Shuswap Trail Alliance and the AMA Torres del Paine, a non-profit conservation organization that works with the Torres del Paine National Park in Patagonia, Chile have been sharing a conversation on sustainable trail design, restoration, and management since 2015.
The long-distance partnership came about through the Shuswap Trail Alliance's relationship with Thompson Rivers University's Faculty of Adventure, Culinary Arts, and Tourism Management in Kamloops. The faculty is a supporting partner of the Shuswap Trail Alliance. Ross Cloutier, with the program's Adventure Department, connected the two organizations through the TRU Adventure Tourism international program based in Patagonia, Chile.
Last winter, Sutra travelled with Shuswap Trail Alliance Project Manager, Veda Roberge, to volunteer time inventorying and assessing the existing trail system in Torres del Paine. Those discussions on the long-term sustainability of trails in the region led to a bigger conversation. "We kind of exploded things to a whole new level," laughs Sutra, identifying the need for a comprehensive master trails plan for the National Park beyond just localized technical repairs.
Torres del Paine, Patagonia, is recognized as one of the top trekking and climbing destinations on the planet. It is visited annually by international travelers from around the planet. The AMA Torres del Paine organization works with the Chilean National Park service providing conservation and educational programs. Part of their work includes maintaining the internationally recognized trail system.
"We have an internationally famous trail system," said AMA president, Mauricio Kusanovic. But many of the trails originate from old cattle trails, "so we have significant issues with erosion and a need for restoration, but we don't have the technical trail building knowledge." Enter the Shuswap Trail Alliance who have developed a tenacious capacity for building community partnerships and upgrading the technical standards of greenway trails throughout the Shuswap region in interior British Columbia.
For more information on the work of the AMA Torres del Paine visit www.amatorresdelpaine.org, and for the Shuswap Trail Alliance, visit www.shuswaptrails.com.
***
Photo Caption: Jacob "Sutra" Brett (left), technical trail specialist with the Shuswap Trail Alliance, travels with his partner, Stephanie Dewinter, and their young son, Finnely, (pictured here at the recent Shuswap Trails fundraiser) to Torres del Paine in Patagonia, Chile this month to provide training in sustainable trail design. The Shuswap Trail Alliance and the AMA Torres del Paine, a non-profit conservation organization that works with the Torres del Paine National Park in Patagonia, Chile have been sharing a conversation on sustainable trail design, restoration, and management since 2015. The two organizations are supporting each other's work to create sustainable trail systems and conserve vulnerable natural places. In exchange, the STA is learning about the conservation programs of the AMA. Torres del Paine, Patagonia, is one of the top trekking destinations on the planet. (Photo credit: The Shuswap Trail Alliance)
For more information on this release please contact:
Phil McIntyre-Paul
Executive Director
The Shuswap Trail Alliance
250-804-1964
phil@shuswaptrails.com
www.shuswaptrailalliance.com