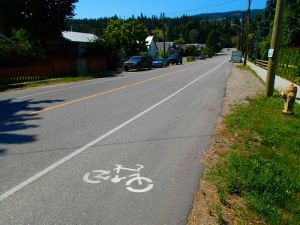 ---
News Release
May 22, 2015
Perfect storm of opportunity highlights need for Active Transportation planning in the Shuswap
The Shuswap, British Columbia – Imagine riding to work in Salmon Arm or Sicamous or Scotch Creek along separated dedicated bike lanes. Too far-fetched for our small rural communities? Too costly? Think again. There's a full scale retrofit happening in communities throughout BC, Canada, and North America, and Bike-to-Work Week advocates are drawing attention to the possibility of making similar improvements for bicycling and walking here in the Shuswap.
"There's a perfect storm of opportunity right now to really work together," says Shuswap Cycling Club President, Al Journeau, pointing to new plans underway for highway twinning through communities, Interior Health exploring healthier built environments, more communities working together to develop better pedestrian connections, increased Provincial funding to support bike paths and walkways, and clear public support for local trails and greenways.
Together with the Shuswap Trail Alliance, the Cycling Club will be circulating an ideas & input sheet throughout the week at their Salmon Arm Bike to Work Week morning stations and online to get people thinking about ways walking and cycling might be improved. "It's a brief teaser to get folks thinking and talking about strategies we might apply in our rural communities here in the Shuswap," says Phil McIntyre-Paul, with the Shuswap Trail Alliance. The STA is working with communities throughout the region to improve modes of travel like walking and cycling. "We've never seen such wide spread support at a local political level. Everyone has moved from asking 'should we do this' to 'how will we do this'," says Phil.
Research is showing strong connections between how easy it is for people to walk and ride bicycles in the places they live and work and how healthy those people are. The research also shows how improved separation from automobile traffic results in significant increases in bicycle use, especially by children and the elderly who would otherwise avoid on-street cycling. "I think the real tipping point comes for all levels of government when they see the economic advantages to improved walking and bicycle infrastructure," says Roger Parenteau, Membership and Community Coordinator with Downtown Salmon Arm. "People want this, and there are tremendous resources available now like the recent design guide policies for protected bike lanes issued by the Federal Highway Administration in the US, for example." (See: www.peopleforbikes.org)
Provincial Minister of Transportation, Todd Stone, recently announced a doubling of infrastructure funding for bicycle transportation and other modes of active travel like walking. "We can take advantage of provincial support if we have plans in place and a strategy to build up matching funds," says McIntyre-Paul. "Smaller communities throughout the Thompson, Shuswap, and Okanagan are making it happen. So can we."
Local advocates point out that most communities in the region already have the base planning in place, from parallel pathways in the CSRD parks plans, the City of Salmon Arm's Greenway Strategy, the Sicamous Open Spaces Strategy, and most recently, the Enderby-Splatsin Active Transportation Plan. Enderby and Splatsin are now proceeding on developing a shelf-ready design ready to leverage funding support. Similarly, Salmon Arm has allocated Greenway budget to assist with bicycle and walking connector plans this season. "We'd like to see every community in the region supported with a solid active transportation plan," says McIntyre-Paul. "Then the designs to leverage funding grants can be developed."
To find out more about planning for walking and bicycling in your community contact your local government office, or contact the Shuswap Trail Alliance at info@shuswaptrails.com and visit www.shuswaptrails.com.
***
For further background on this release, please contact:
Phil McIntyre-Paul (Executive Director)
for the Shuswap Trail Alliance
phil@shuswaptrails.com
www.shuswaptrails.com