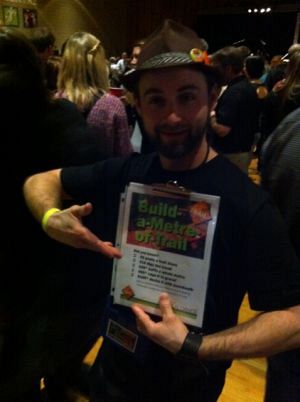 ---
News Release
February 10, 2015
$35,000 raised to kick start 2015 Shuswap Trail projects
The Shuswap, British Columbia – The Shuswap showed up full force last Friday to raise $35,000 in support of Shuswap Trails at the 10th Annual Auction and Dance. "It was an overwhelming success," said Winston Pain, chair of the Shuswap Trail Alliance. "The region has once again spoken loud and clear to continue working with partners to building, maintaining, and planning greenways and trails on the ground."
A sold out crowd of 475 people joined volunteers and partners to celebrate working together in support of trail projects throughout the Shuswap. "There was an amazing array of auction items, and Scarecrow once again showed why they are such a sought after band in our area," said Winston noting the dance floor stayed packed right to closing. "We are all incredibly grateful to everyone who helped make this such a successful fundraiser. You've set us up to meet our goals in 2015."
A well-organized volunteer team of community leaders stitched the event together over the past 6 months modelling the Shuswap Trail Alliance penchant for partnerships. There was locally flavoured food skillfully prepared by the Blue Canoe Bakery Café team with contributions from Farmcrest Chicken and Happy Days Dairy. The Barley Station and Larch Hills Winery provided beverages, and the Fire Hall 3 team served it up right in fine style. Front of house, auction support, and drive home was provided by the incredibly versatile Enactus Okanagan College team. Vehicles were provided by Braby's Motors, Jacobson Ford, Hilltop Toyota, and Salmon Arm GM. Tickets and posters were printed by Lakeside Printing.
The lobby and auditorium included displays from Shuswap Tourism, fabric art from Victoria's Artist's House Bed and Breakfast, and live trees from Nico's Nursery. The dance floor was filled with the good energy of Scarecrow, Brian Coffey of BC Sound fine-tuned the speakers and worked his magic on the dials, and of course, the Shuswap's own Patrick Ryley with EZ Rock anchored it all as MC and DJ for the evening.
Displays included the latest Nordic trail guide hot off the press from Shuswap Tourism, updates on all the work completed by regional partners in 2014, and updates on the new Build-a-Metre-of-Trail campaign to support local stewardship projects. "It's so important to acknowledge everything being accomplished is done by dedicated leaders, agencies, and organizations throughout the region," said Winston. "The February fundraiser puts the foundation in place to ensure we can keep supporting those individuals and organizations working together on our behalf."
125 local businesses contributed to the silent auction tables, including Platinum contributions from Waterways Houseboats, Twin Anchors, BDO Canada, Faster Than Light Computing, TransRockies, K3 Cat Ski, Podollan Inn, Dancor Electric, Salmar Grand Theatre, EZ Rock, Ridetech, Skookum Cycle and Ski, Ways2Ride, and Copper Island Diving.
This year, in celebration of the STA's 10th Anniversary, an all new Build-a-Metre-of-Trail campaign was kicked off at the February event targeting an additional $50,000 in support of regional greenway trail projects. At an average of $15 - $20/metre that equals over 2,500 metres of new trails for walking, cycling, equestrian, and winter Nordic use. Every dollar raised goes toward building new trails and taking care of existing ones. They help to leverage partnership funding, hire seasonal trail crews, and support volunteers.
To support the work of the Shuswap Trail Alliance and regional partners, visit www.shuswaptrails.com and follow the Build-a-Metre links on the home page. All contributions are charitable and tax deductible. People are also invited to get the full report at this year's upcoming Shuswap Trail Alliance AGM and Slide Presentation – March 4th, 7 pm, at Okanagan College, Salmon Arm.
***

For further background on this release, please contact:

Phil McIntyre-Paul (Executive Director)
for the Shuswap Trail Alliance
250-804-1964
phil@shuswaptrails.com
www.shuswaptrails.com