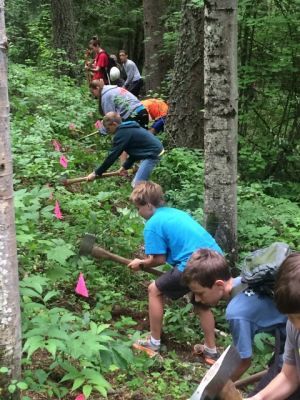 ---
News Release
February 02, 2015
Build-a-Metre-of-Trail is back for 10th Anniversary
The Shuswap, British Columbia – Communities around the Shuswap are continuing to rise to the challenge of redesigning how we think about moving through the landscape. And the Shuswap Trail Alliance board continues to find new ways to support those efforts. This year, in celebration of the STA's 10th Anniversary, the Build-a-Metre-of-Trail campaign is back to raise $50,000 in support of regional greenway trail projects. At an average of $15 - $20/metre that equals over 2,500 metres of new trails for walking, cycling, equestrian, and winter Nordic use.
The Build-a-Metre-of-Trail campaign kicks off this Friday at the annual Shuswap Trail Party and Fundraiser and will run right through the year with a variety of invitations to participate. "We're building on the circle of partners now committed to creating serious greenway solutions for walking, cycling, and other forms of healthy active travel throughout the region," says Winston Pain, Shuswap Trail Alliance board chairperson. Every dollar raised goes toward building new trails and taking care of existing ones. They help to leverage partnership funding, hire seasonal trail crews, and support volunteers.
In 2014 regional partners worked with the Shuswap Trail Alliance to leverage over $100,000 in in-kind support for new and upgraded trails, trail signs, maintenance, and planning for new projects. Trails and communities in every part of the region benefited. "In 2015 we would like to increase our volunteer trail stewardship support," says Winston. "Every trail and pathway requires a little care to last a very long time. Volunteers are at the heart of all the trail care that happens."
Winston also points to several of the new projects that need planning and support to move forward, including the need for improved walking and cycling connectors in many of our communities. "We were honoured to work with the Splatsin and Enderby leadership this past year, along with support from Interior Health to complete an Active Transportation Strategy for those communities," says Winston. "We now have a template to create strategic walking and cycling plans for every community in the Shuswap, but funding is needed to support this."
The Shuswap Trails 2015 Work Plan includes completion of the latest phase of the Regional Trail Strategy with Secwepemc, regional, and provincial leadership, 14 kilometers of new walking, cycling, equestrian, and Nordic trails to design and build, over 140,000 meters of seasonal maintenance, 100 new trail signs to install, additional trailhead stiles to protect sensitive habitat, more projects with the Invasive Species Society, and further work in partnership with Shuswap Tourism to make sure people know the trails are there. And of course, there are legacy projects like the Sicamous to Armstrong Rail Trail.
To support the work of the Shuswap Trail Alliance and regional partners, visit www.shuswaptrails.com and follow the Build-a-Metre links on the home page. All contributions are charitable and tax deductible. People are also invited to get the full report at this year's upcoming Shuswap Trail Alliance AGM and Slide Presentation – March 4th, 7 pm, at Okanagan College, Salmon Arm.
***

For further background on this release, please contact:
Phil McIntyre-Paul (Executive Director)
for the Shuswap Trail Alliance
250-804-1964
phil@shuswaptrails.com
www.shuswaptrails.com