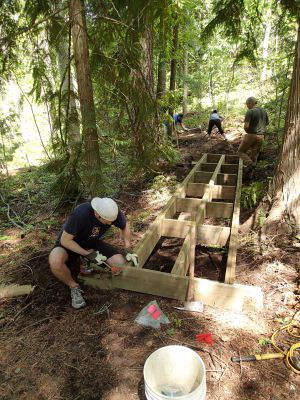 ---
News Release
June 09, 2014
RBC Volunteers support Shuswap Trail Stewards program
The Shuswap, British Columbia – Who says banking is an office job? Staff from RBC Salmon Arm got outside with Shuswap Trail Alliance leadership this month volunteering their time to build a new trail reroute and bridge in the South Canoe Trail System. The team also leveraged a $1000 grant toward the project through the RBC Blue Water program.
"This fits so well with RBC's Blue Water Project which supports local efforts to protect water," states Lori Schneider Wood with the Shuswap Trail Alliance. The South Canoe trail upgrades are reducing impact to the watershed by installing bridges and reroutes that prevent damage to streams and wet areas.
The RBC volunteers are part of a growing effort by the Shuswap Trail Alliance to grow volunteer stewardship of trails and greenways throughout the region. And local trail advocate, Lori Schneider Wood, has recently returned to the Shuswap to assume a new role supporting the trail stewards program. She will work with lead Trail Steward, Clint Smith, who volunteers to manage the regional trail report hotline at shuswaptrails.com, and other regional leaders to encourage more community volunteers to get involved.
"Along with the annual cycle of monthly volunteer events, we're looking for new opportunities to work with school groups, clubs, local community associations, staff teams," says Lori. "Each year we've been able to leverage project funding to hire a seasonal trail team, which means we have someone out in the field all week able to welcome volunteer support. We're not just tied down to weekend events." Even individuals are taking advantage of this, calling up when they have a day off and want to get out.
"We've seen 13 volunteer group events in just two months," notes Lori, "including the annual spring training workshop." As well, the Shuswap Trail Alliance was able to partner with the Larch Hills Nordic Society and Recreation Sites and Trails BC to sponsor two chainsaw safety courses open to all trail stewardship organizations throughout the region. The second course will be offered this fall. "This is all part of a new effort by our provincial agencies to better support volunteer trail stewards," says Lori.
Groups and individuals interested in getting involved as a volunteer trail steward, or setting up a group event like RBC, should contact the Shuswap Trail Alliance at 250-832-0102, email info@shuswaptrails.com, or contact one of our regional trail stewardship organizations directly.
For more on trails throughout the Shuswap, check out www.shuswaptrails.com. And be sure to share trail maintenance needs through the trail report hotline email at trailreport@shuswaptrails.com
***
Photo: RBC volunteer, Maurice Wright, works with Shuswap Trail Alliance leader, Damon Kent, on a new bridge crossing to improve water protection in the South Canoe Trail System. Meanwhile, Emerald Mah and Dale Verdon (background), work with other RBC volunteers on a new trail reroute to access the bridge. The RBC volunteer trail day was part of the RBC Blue Water Project supporting local initiatives.

For further background on this release, please contact:
Lori Schneider Wood (Trail Stewardship Coordinator)
for the Shuswap Trail Alliance
250-833-6131
admin@shuswaptrails.com
Phil McIntyre-Paul (Executive Director)
for the Shuswap Trail Alliance
250-804-1964
phil@shuswaptrails.com
www.shuswaptrails.com