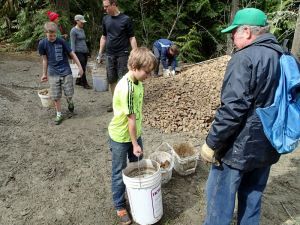 ---
News Release
April 14, 2014
Student Pro-D Day Volunteer Trail Work at South Canoe
The Shuswap, British Columbia – This month and next students throughout the Shuswap are invited to join the Shuswap Trail Alliance team. Flex your trail building muscles for two special volunteer trail events – April 22 & May 16 – designed especially for students looking for something a little different to do during the upcoming Pro-D days.
Major improvements to the South Canoe trail system are underway this spring. New reroutes, bridges and culverts will open up more trails, protect streams, and improve shared use by horses, hikers, and cyclists. As well, watch for more trail signs to be installed later this spring.
Upgrade sponsors include the South Canoe Trail Advisory who are coordinating the local stewardship efforts, the EQ Trail Association who donated $3000 to purchase bridge materials, Canoe Forest Products who donated bridge stringers salvaged from the old mill, Rec Sites and Trails BC who funded trail signs, the City of Salmon Arm support for lower trails and trailhead, Freedom Framing who laminated the deck stringers, and Skookum Cycle and Ski hosting the April 27th trail blitz and BBQ lunch.
Add some weight to your resumes, get a little outside time, and lay down more sweet single track to the growing Shuswap Trail legacy. Every volunteer trail day includes supervised training with safety, tool use, and team work. And come out to three or more volunteer trail events to be eligible for your very own Shuswap Trail Stewards t-shirt.
Both Pro-D Day student volunteer trail events take place at the South Canoe Trail System. Meet at 8:45 am at the South Canoe Trailhead (10th Ave SE & 70th St. SE) Bring water, lunch, work gloves, safety glasses, and a big smile! Everyone welcome! Bring your friends. (You can even bring your parents!) For info check in at your school office to pick up permission forms, contact the Shuswap Trail Alliance at admin@shuswaptrails.com, or leave a message at 250-832-0102.
Check out the Shuswap Trails event calendar for more volunteer days throughout the region at www.shuswaptrails.com, including April 22 (Pro-D), April 26 & 27 (South Canoe), April 27 (Skimikin), May 16 (Pro-D), May 25 (South Canoe)
***

For further background on this release, please contact:

Phil McIntyre-Paul (Executive Director)
for the Shuswap Trail Alliance
250-804-1964
phil@shuswaptrails.com
www.shuswaptrails.com