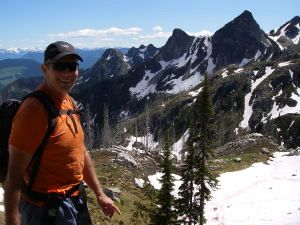 ---
Long time champion of trails and the natural world in the Shuswap, John Coffey, died peacefully in his sleep Saturday night after a short, brave battle with cancer. John was a co-founder of the Shuswap Trail Alliance, lead trail steward, route finder, naturalist, and guide. He was an active member of the Shuswap Naturalists, Shuswap Outdoors, the Kamloops Outdoors Club, and the Larch Hills Nordic Society. We have lost a great friend, mentor, and advocate in the wilderness who taught so many of us to breathe deeply and open our hearts to the natural world.
John's legacy of trails includes the Larch Hills Traverse, Reinecker Creek, Scotch Creek Hlina, Hyde Mountain Lookout, Cedar Circle, Raspberry Hill, the Larch Hills Snowshoe trail system, and the new Rubberhead trails, to name a few - all created from John's leadership in the field. He monitored all the major alpine routes in the region - Joss, Skyline, Gorge, English, Queest, Eagle Pass; worked with biologist Jeremy Ayotte to create the Enviromental Adaptive Trail Monitoring program; and helped to set up the new Shuswap Trail Stewards program. John also worked tirelessly protecting the Mara Meadows Ecological Reserve as a volunteer warden with BC Parks.
Perhaps John's most beloved project is the Anstey Highland Traverse - a seven- stage ridgeline mountaineering route along the eastern spine of the Shuswap. Over a six year period John carefully explored, documented, and connected the proposed route in its entirety, including potential hut sites and environmental assessments. It is a body of work that will continue to be carried forward by the Shuswap Trail Alliance.
A few weeks ago, John was asked what his friends could do for him. John's immediate and selfless response was, "Get out and build trails, and take care of the trails". John loved to see people outdoors, using and caring for trails, and observing things along the way. John's shoes will be large to fill, and many will miss him as a walking partner, a route-finding partner, an interpreter of the natural world, and most of all for his unwaivering friendship. May we move forward with the work John loved, to honor this special man who was a friend to our community.
John's family invite those who knew him to a celebration of his life this Friday afternoon, September 7th, from 2-4 pm at the family home in Salmon Arm. They ask that donations in lieu of flowers be made to the Shuswap Trail Alliance, the Canadian Cancer Society, or a charity of your choice.