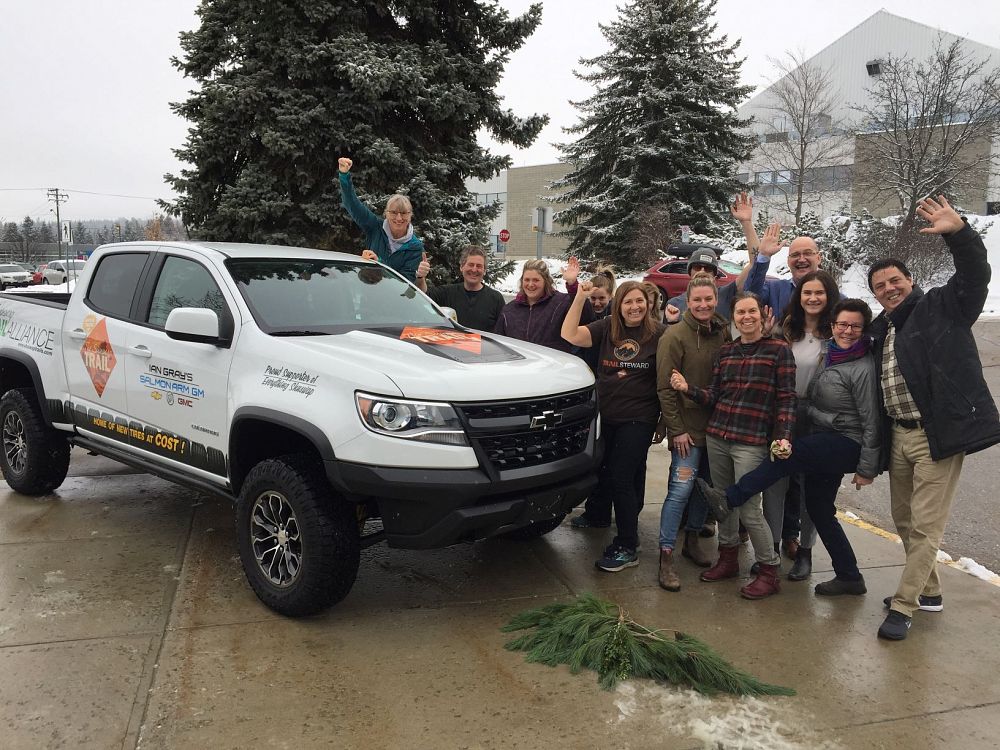 ---
News Release: Nov. 25, 2020
The Shuswap Trail Alliance adds new trails and partnerships
The Shuswap, British Columbia – The Shuswap Trail Alliance (STA) continues to connect local and regional leadership as they work together to develop, operate, maintain, and promote a network of non-motorized trails, waterway, and hut-to-hut routes throughout the Shuswap watershed region. In 2020, the STA marked its 15th anniversary! Thank you to our many trail volunteers, supporters, and community partners who have helped us to reach this impressive milestone.
For many of us, 2020 has been a strange and difficult year, both personally and professionally. With the tremendous support of our dedicated staff, sponsors, and, most importantly, volunteers like you, we have been able to get through this year unscathed and with many additional kilometres and hours of new trails that we've added to our beautiful Shuswap region.
The work continues on the ambitious Shuswap North Okanagan Rail Trail project that will provide a 50-kilometer connection between the communities of Sicamous and Armstrong, unfolding the true story within Secwepemc territory, protecting natural areas and habitat for wildlife, facilitating healthy outdoor recreational activities and travel options on foot and by bicycle, conserving heritage, cultural, and agricultural values, and encouraging further growth of recreational tourism. The STA was invited to support their Rail Trail as project manager for the development planning phase, assisting with community consultations, technical sub-consultants, and preparations for the capital fund raising campaign. For more information, visit the website at www.shuswapnorthokanaganrailtrail.com.
The STA also saw a continued engagement of the West Bay Trail Corridor discussion. This initiative, championed by Neskonlith Elder and Councillor, Louis Thomas, Switzmalph Cultural Society Executive Director, Bonnie Thomas, and Adams Lake Councillor, Gina Johnny, seeks to more appropriately address the lack of adequate connectivity for pedestrian and bicycles between Adams Lake, Neskonlith, Little Shuswap Lake Bands, and the City of Salmon Arm. Support from our Provincial MLA and Federal MPs office has been notable. In early 2020 the Bands and City came together and signed a Memorandum of Understanding to work together on this important project.
New trails built in 2020 included completion of 2019 additions to the South Canoe Trail System including Sweet Tears, Coffee Time and Upper Triangle, the Upper Slopes of the Shuswap Memorial Cemetery Park, and the North Fork Wild Historic Pack Trail Lower Loop extension. We were also delighted to support local trail efforts including the Armstrong-Spallumcheen Trail Society's work on a new trail at the Thomas Hayes Conservation Park. The Heritage Branch of the Ministry of Forests Lands and Natural Resource Operations and Rural Development, through Sun Country Community Futures, also reached out to the STA for our expertise with the creation of a trail system at the McAbee Fossil Beds near Cache Creek. This adds to the ongoing collaboration and consultation that we have been invited to be a part of in the province and the wider field.
The Shuswap Trail Alliance also worked on a couple of large environmental stewardship projects this year mechanically removing Yellow Flag Iris at White Lake and along the Turner Creek Trail, in partnership with Columbia Shuswap Invasive Species Society, and digging up burdock at Peter Jannink Park.
In 2020, the STA also continued to support the development of the Secwepemc Landmarks and Trailhead Signage project that has made great strides forward, despite the pandemic. The artists are currently working on their art installations. Agreements with both the City of Salmon Arm and the Village of Chase are in place for the installment of the main landmarks, which will be located at the Marine Peace Park in Salmon Arm and the Chase Memorial Park. A very special word of gratitude to the project coordinating team of Adams Lake Councillor Shelley Witzky, Project Coordinator Libby Chisholm, Technical advisor Sutra Brett, and the Knowledge Keepers circle of elders from the four Secwepemc lakes communities.
With people looking to get outside even more during the COVID-19 pandemic, this year saw an unprecedented increase in trail usage for all trail user groups. Wondering how you can play a part in the maintenance and creation of the amazing greenways in the Shuswap? This Christmas we are looking for more members to join the Alliance (memberships are $20 each) and donations to "buy" metre(s) of trail. People can also help build the new Rail-Trail by making a donation to the Shuswap North Okanagan Rail Trail Capital Campaign.
More information on the STA, how to become a member, and the much-anticipated Rail Trail can be found at www.shuswaptrailalliance.com.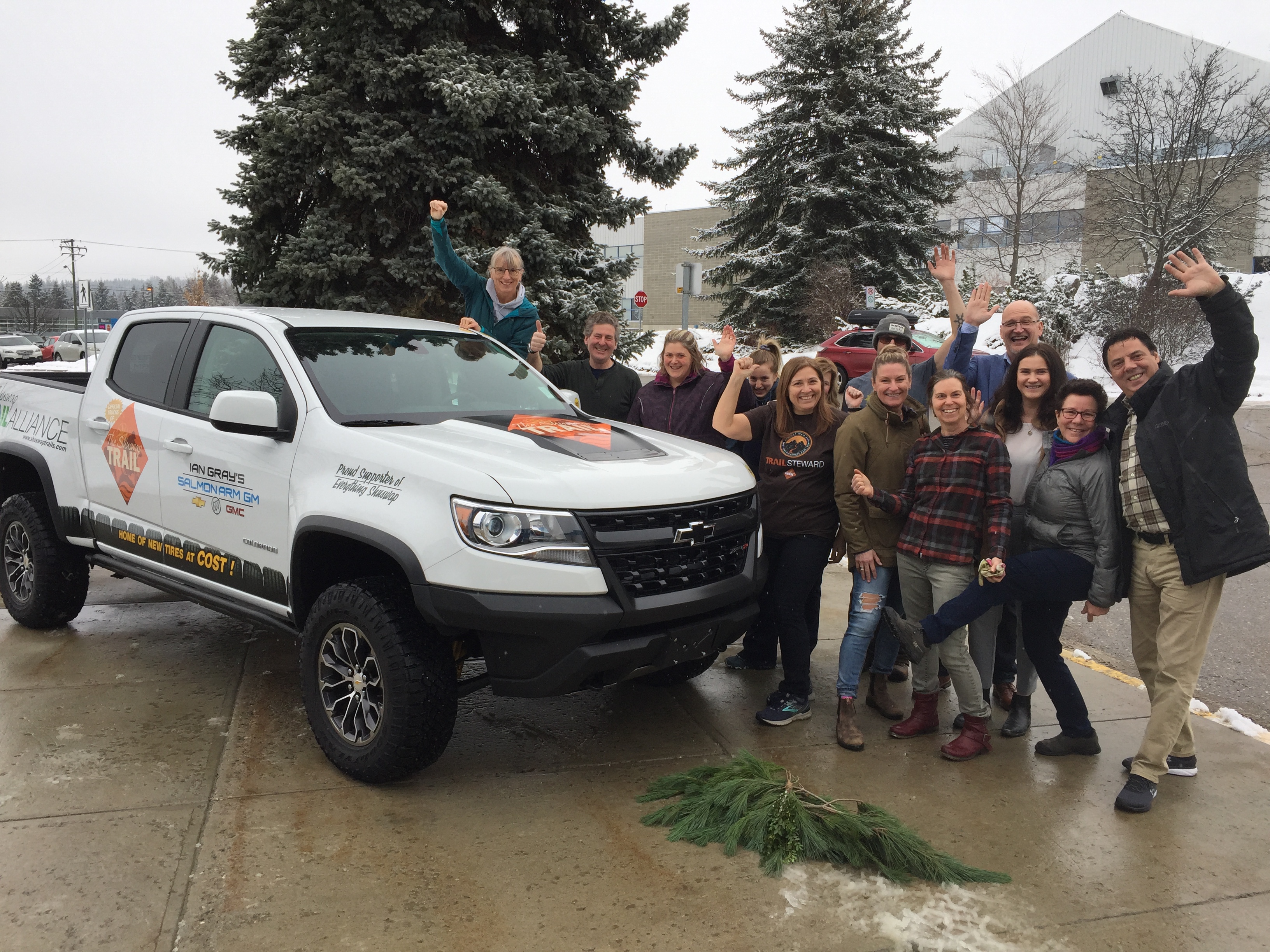 Photo - Img_9981 - Ian Gray's Salmon Arm GM donates trucks for the Shuswap Trail Alliance's 2020 trail season. In photo: the 2020 Shuswap Trails Party and Fundraising team with Ian Gray. (left to right) Adrian Bostock (STA Project Manager at the wheel), Phil McIntyre-Paul, Kara Kay Leinweber, Sharon Fabro, Diane Little, Karen Sansom, Jen Bellhouse, Barb McKinnon, Marley Fabro, Karen Walters, Cathy Bartsch, Lorraine Beaudoin, Francois Villeneuve, (crouching) Ian Gray, Kaitie Gray, Reg Walters.
For more information on this release, contact:
Jen Bellhouse, Associate Director, The Shuswap Trail Alliance
250-804-3530
associatedirector@shuswaptrails.com
www.shuswaptrailalliance.com