The Shuswap, British Columbia – The sold out crowd at the annual Shuswap Trails Party and Fundraiser last Friday night were among the first to hear about the Shuswap Trail Alliance's (STA) exciting new sponsor. 500 guests and volunteers filled the Salmon Arm Rec Centre auditorium to celebrate dancing to the Shawn Lightfoot Band and DJ Patrick Ryley with support from BC Sound, and raise more than $50,000 setting in motion another ambitious year of trail projects throughout the Shuswap.

In an unprecedented show of support, Ian Gray's Salmon Arm GM has generously donated the use of two trucks, for one year, to the STA. Ian ceremoniously handed the keys over to Rob Marshall, the STA's Chair, at Friday's fundraiser. "We are thrilled to be able to support the Shuswap Trail Alliance". Says Ian Gray. "I really think that the trail alliance captures what it is to live here, whether you are in Preschool or spending your retirement here, the work that trail alliance does allows everyone to participate and enjoy the outdoors". The new 3500HD Sierra and Colorado ZR2 have been decked out in a colourful wrap with both GM and the STA's logos. "The partnership with Ian Gray's Salmon Arm GM is a game changer for us", says the STA's Executive Director Phil McIntyre-Paul. "It personifies the community support that's making the Shuswap Trails initiative possible. We are so humbled and grateful for everyone's continued support".

Other top tier platinum sponsors for this year's event included contributions of $1000 or more from WestJet, Skookum Cycle & Ski, Kintec Footwear & Orthotics, CenterPoint, Browne Johnson Land Surveyors, Reg & Barb Walters, Fire Hall #3, BC Sound Concert & Event Systems, Barley Station Brew Pub, Copper Island Fine Homes, General Assembly Excavating Ltd, ProAir Heating, Pine Valley Logging Ltd, Cameron Exteriors, Salmar Community Association, BDO Canada, EZ Rock – Bell Media, Demille's Farm, TransRockies Inc., Sunshore Golf, Salmon Arm Observer, and K3 Cat. They joined 96 other community sponsors to support the event and help put in place the critical funding.

Projects on tap for 2020 include the Sicamous-to-Armstrong Rail Trail, West Bay Connector, Secwepemc Landmarks and Trailhead Sign project, East Shuswap Alpine Trail management, CSRD Parks, Rec Sites and Trails, BC Parks, Salmon Arm Greenways, Chase trail planning, and North Shuswap plans, and the regional Trails Roundtable

The February fundraiser lays the foundation that allows the Shuswap Trail Alliance to work with regional partners throughout the year. The funds are leveraged with matching grants, donations, in-kind contributions, dedicated community project budgets, and an extraordinary contribution of volunteer time to grow local greenway trails throughout the region.

By working collaboratively, rural communities of the Shuswap gain the combined benefits of a focused and skilled support team able to provide planning, community consultation, design, and trail building expertise normally only possible in larger urban centres. The Shuswap Trail Alliance has supported the growth of over 138 km of new greenway trails throughout the Shuswap valued at over $2.5 million dollars since 2005.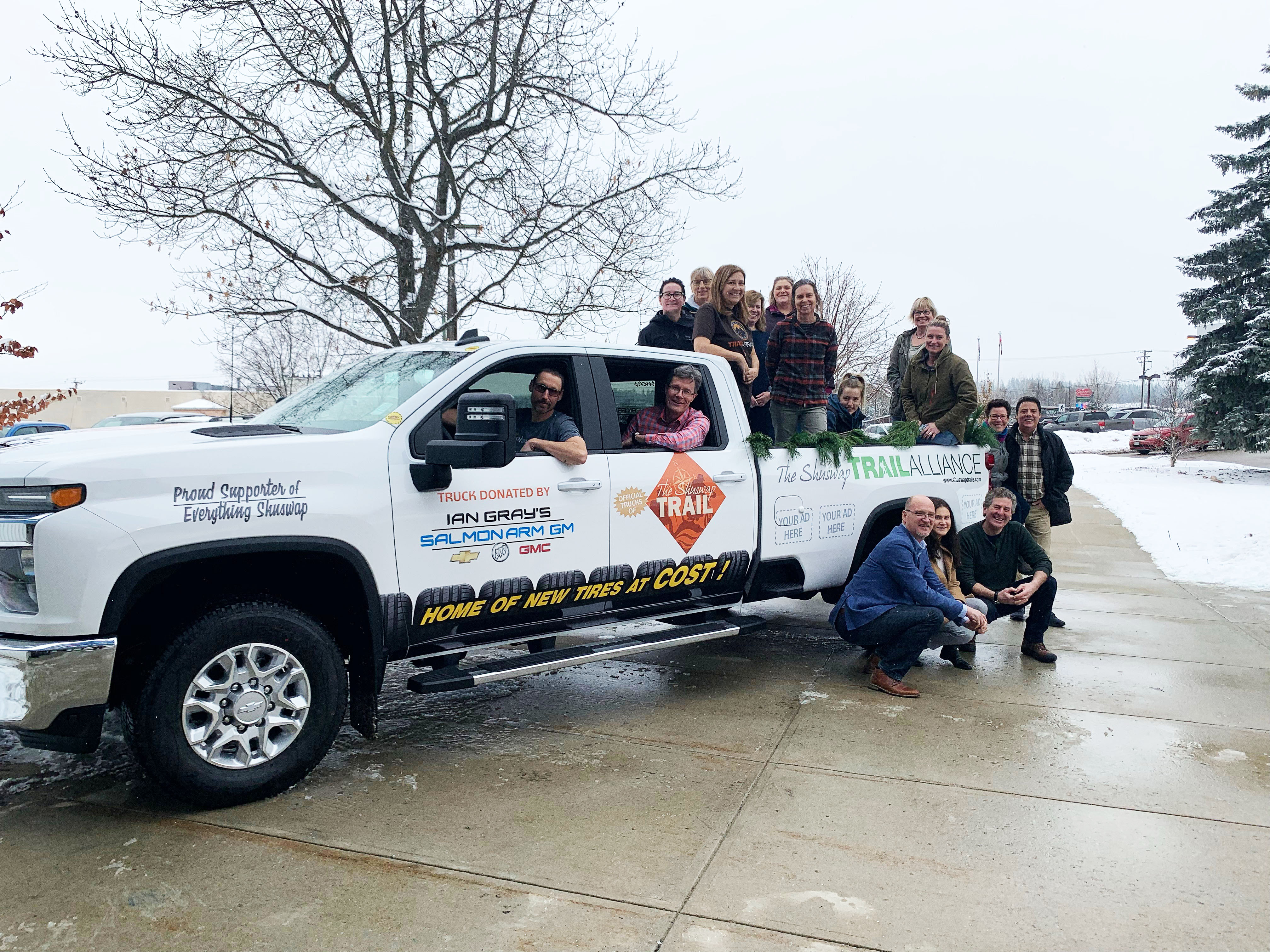 Photo - Img_9981 - Ian Gray Salmon Arm GM donates trucks for Shuswap Trail Alliance trail season. In photo: the 2020 Shuswap Trails Party and Fundraising team with Ian Gray. (left to right) Adrian Bostock (STA Project Manager at the wheel), Phil McIntyre-Paul, Kara Kay Leinweber, Sharon Fabro, Diane Little, Karen Sansom, Jen Bellhouse, Barb McKinnon, Marley Fabro, Karen Walters, Cathy Bartsch, Lorraine Beaudoin, Francois Villeneuve, (crouching) Ian Gray, Kaitie Gray, Reg Walters.
In total, the event raised over $50,000 to support Shuswap Trail projects throughout the region in 2020. For more on the work of the Shuswap Trail Alliance and Shuswap Trails visit www.shuswaptrails.com.
For more information on this release, contact:
Jen Bellhouse, Associate Director, The Shuswap Trail Alliance
250-804-3530
associatedirector@shuswaptrails.com